We  are the Caterers, Specialised in Catering Services includes Marriage Catering Services , Package Marriages and Party / Event Organising in Tirupati, Tiruchanur, Kanipakkam, Srikalahasti and All Sorounding places of Tirupati.
Who We Are
We offer you our full-range of outdoor Catering services covers complete food preparation and presentation for formal or informal gatherings plus all setup, cleanup, teardown and as-requested amenities.
What We Do
Once you provide the guidelines on the choice of menu and budget, we get into work. We enhance the appeal and attractiveness of the catering section by providing our Catering services.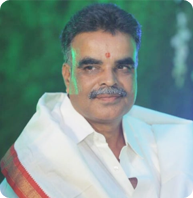 Mr.R.K.CHALAPATHI
(Proprietor)
Mobile : +91- 9391334785
: 9346499048
: 9959873904